By now you've probably heard of
EdenFantasys
. Perhaps you've read my previous article on their
programs for bloggers
, or just seen ads in passing. Tagged as "The Sex Shop You Can Trust," they carry a wide variety of
adult toys
, bath products, even clothing and makeup.
Did you know that EdenFantasys also has a blog of it's own? Welcome to
Eden Cafe
. Eden Cafe is a multi author multi topic blog with articles ranging from sexuality to general health, and everything in between! Posts are accepted from the community on various topics, and a code of conduct for responses to posts is expected.
As I was browsing through some of the more recent topics, one in the Body Image category caught my eye. The post's title is "
Take a Look in the Mirror
."
I found the author's writing to be brutally honest. She talks about her favorite parts of her physical self, and contrasts them by also mentioning the long list of things she dislikes. I'll let you read the whole article if you so choose, but the main point taken was that obesity has the tendency to deny someone feeling "pretty" or "sexy." As someone who recently put on quite a few pounds (post-pregnancy), I can attest to the truth of this. Most stores that sell women's clothing out of the normal size-ranges try their best to keep styles looking sassy and sexy, but at outrageous prices. Kinda like selling $5 sodas at an amusement park because you know the patrons have no other choice. Those that DO sell affordable attire, nine times out of ten, do not offer much other than t-shirts, stretchy pants, and things that most people in their right minds wouldn't feel sexy in, regardless of size.
Aside from the consumerism, feeling sexy has to come from within. And I can tell you, with "more to love" it's extremely hard to love your own naked image in the mirror.
So here's my challenge to you. Find the largest mirror in your house, strip down, and take a look. Are you feeling pretty? Sexy, even? If not, pick one simple thing can you change/do to make yourself feel even the tiniest bit more pretty. Maybe put on a sexy pair of underwear. Or take a walk and drink a glass of water (this makes me feel great!)
Whatever that one thing is, just do it. And most importantly, do it just for you.
~Sam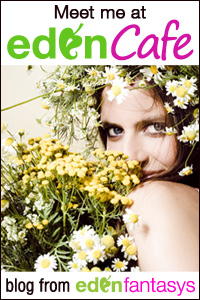 This post is sponsored by our friends at EdenFantasys.com