Wondering what to get your significant other for Valentine's Day? Or perhaps you're like me and mine, who don't particularly celebrate the holiday with gifts but would still like to do something special to show you care. Either way,
EdenFantasys
has a plethora of goodies to suit everyone's liking!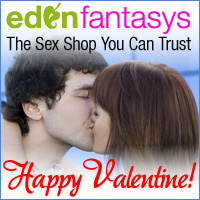 (Work safe post, everyone. No worries!)
Most readers know I've talked about EdenFantasys before. If you're new to either site, EdenFantasys.com is an online
adult toy store
plus so much more! They carry everything from toys to cosmetics to massage products. I don't know about you guys, but nothing puts me "in the mood" faster than a good rub down (har har). These are a few of my favorite massage/gift packages that are sure to excite:
Sweet Heart Chocolate Box: This set comes with a creme brulee massage cream, body paint, and honey dust in fabulous chocolate flavors! To apply these treats the kit comes equipped with a feather duster/tickler and body paint brush!
Knead Me Massage Set : This wonderful massager is made of white glossy ceramic, which will hold both cool and warm temperatures. The Afterglow massage candle melts into a luxurious massage oil!
Hot Love Massagers: These are my favorites! Two gel packs that, when activated, create a chemical reaction, crystallize, and heat-up! Once the heat is gone, they can be boiled in water to re-gelify and reuse. Works wonders with massage oils!
These are just a few of the many options EdenFantasys offers for luxurious bath, body, and massage gifts. Why not get him a gift that you'll both enjoy? If massages aren't your thing, you're crazy check out products like edible body treatments, couples toys, or maybe even a DVD to enjoy on that special night. Any way you choose, enjoy!

~Sam