As odd as that sounds, it's kinda true in my case.
You all know I'm on my "health mission" this year. I think most people will agree that keeping the motivation to continue eating healthy and staying active is the hardest part. So what motivates me?
Other than the fact that I need to be healthy and somewhat fit to keep up with my little "explorer," I want to get my old body back. By old I mean pre-baby, circa 2009. Actually, I'd like to be MUCH more fit than that, even. I keep this picture of myself just before I left California in 2009 as my desktop background to "remind" me not to sit and loaf.
Sometimes I like to think about all the perfect outfits I'd like to fit into (minus the boobage), and that gives me a kick in the butt to get moving. For instance, did you know that
EdenFantasys
sells dresses? I had no idea until today! While browsing around the web I came across quite a few that stood out to me.
(Warning: Post has NO NUDITY, but does have a few women in sexy dresses. You've been warned.)
Not just lingerie dresses, either. I mean, full on gowns and club-style
dresses
. Granted, many are mini skirts and most are made of Spandex...but that's where the motivation comes in!
Here are a few of my favorites:
That first dress, the one with the lace-up front, looks nearly identical to my prom dress! (Though mine wasn't so daring, it was floor-length.) And the Retro Stewardess dress? Too stinkin' cute! Pair a shrug or light coat with the long black evening gown on the far right for an evening dinner date, simply gorgeous. EdenFantasys also has tons of lingerie dresses, bras, panties, stockings, and just about everything else to go with them.
I'm totally hoping to one day look great in something like these...Spanx or no Spanx, I'll be a happy mama.
~Sam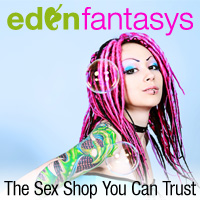 A gift card was provided to me free of charge by Eden Fantasys in exchange for this post. This disclosure is in compliance with FTC guidelines.