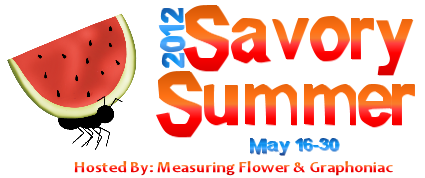 Attention bloggers!
Signups are now being accepted
for the Savory Summer Giveaway Hop hosted by Measuring Flower and Graphoniac! This hop will run from May 16-30th and will include all-things food! Savory Summer will be featuring all things food and food-related that can be enjoyed during the summer. Basically, if it is something that a human being can eat, eat with, eat off of, cook, cook with, prepare food with…it belongs in this event!
Each participating blog will be hosting a giveaway worth at least $25 and signups can be FREE, so join in the summer fun!
~Sam