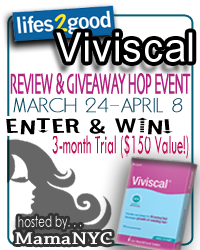 Welcome to the Viviscal Review & Giveaway Hop Event
hosted by
MamaNYC
! This exciting event will follow 25 bloggers over the course of three months as they experience hair growth, nourishment, repair, and damage control with Viviscal!
You might have seen the name Viviscal floating around the internet, TV, and magazines (
Allure
,
Cosmopolitan
,
InStyle
) as recommended by top celebrities and stylists alike. Viviscal is a 100% drug-free combination of Vitamin C, a marine complex from deep sea fish, acerola cherry and horsetail extracts designed to nourish and promote growth for damaged and
thinning hair
. This is a problem faced by both men and women!
Our goal is simple: I, along with 24 other bloggers, will be giving Viviscal a test run over the course of three months and reporting our findings.
Please check back with us in June to read about our results and successes!
On a personal note, I have high hopes for my own results on Viviscal! My hair during pregnancy was full, lush, and extra-healthy, but I never experienced the huge "drop" in hair health that many moms warned me about. My brush wasn't full of loose hairs, I didn't notice a big loss of fullness...it seemed to take place, instead, over the course of my first year with baby, kinda
sneaking
up on me. Now it's definitely thinner than I'd like, especially as I am considering starting natural dreadlocks. (Need those roots to be strong and healthy to hold a little extra weight!) I'm hoping that I'll be able to report some visible differences after the 3 month trial is up. (with many pictures of a new, natural hairstyle!)
One lucky reader of Serial Access Mom will
win
their very own 3-month supply of Viviscal, too! (
$150 value!
) There are 24 other blogs hosting giveaways of their own for a 3-month supply, so hop around to the others once you're finished entering here on Serial Access Mom! This giveaway is open to residents in the
US only; 18+
and will end on Sunday, April 8th @ 11:59PM (EST).
NOTICE:
All participants are encouraged to hop down the linky list below the Rafflecopter widget! 25 bloggers are each giving away 3-month trials of Viviscal. You will only be eligible to win on ONE of our blog giveaways. However, I hope you will finish all our giveaways because the MORE giveaways and entries completed - the BETTER your chances will be at winning!
a Rafflecopter giveaway