As a non-smoker who grew up in a household of indoor smokers, I can personally attest to the negative impact that cigarettes can have on those around the smoker. The half-full ashtrays lying around, stinking up each room. The occasional cigarette burn on the couch or bedspread. Going to school with the smell of smoke on your clothes that everyone else notices...well, it's not a pleasant thing.
As an adult now with a partner who smokes, I often face the same issues to a lesser extent. (No burns or smelly clothes for us, smoking is only allowed outdoors.) Mark does a good job of keeping his smoke away from Jace and me, but it still lingers around in unwanted places. Not to mention the fact that Mark obviously can't smoke indoors pretty much anywhere he goes, a Godsend for us non-smokers but torture at times for him.
Thanks to the wonders of modern technology Mark has stumbled upon the
electronic cigarette
, blu eCigs specifically. He has tried one other brand of e-cig in the past, but it was huge, heavy and clunky.
blu eCigs
are proving themselves to be the best in their industry, and this household is loving 'em!
If you're not familiar with the concept, e-cigarettes deliver a dose of nicotine to the user via inhaled water vapor. This way that user can enjoy "smoking" anywhere without negative social stigma. Mark has been using blu eCigs for a few weeks now and is definitely a fan. We received the original blu eCig starter kit, which comes with everything you need to enjoy e-cigarettes!
The blu eCigs original starter kit comes with:
1 E-cigarette pack holds 5 cartridges - charging
your batteries on the go!
2 Electronic cigarette batteries
1 Wall charger and 1 USB charger
1 Full Flavored strength Variety Pack
One year warranty
Mark and I were both pleasantly surprised that the blu eCig "pack" is actually a charger itself! Once you charge the pack, you can re-charge your blu eCig batteries up to 6 times on the go before the pack needs more voltage.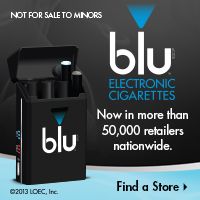 In addition to the wonderful social benefits of ecigs (smoke wherever you want with no ash or smell), blu eCigs come in many more flavors than traditional cigarettes, giving you more variety. As you can see from the photo above, Mark gets to try all 7 flavors offered: Classic Tobacco, Magnificent Menthol, Cherry Crush, Vivid Vanilla, Java Jolt, and the two newest flavors Pina Colada and Peach Schnapps. He has tried a few, and says that Classic Tobacco is his favorite so far. It's the most similar to a traditional cigarette, though he does mention that it is not quite as fulfilling as a regular cig. It does get him through the work week with many cigarette breaks through out the day, and allows him to spend more time inside at home with us rather than facing the frigid cold every 30 minutes for a smoke!
blu eCigs are available nationwide at over 60,000 retailers, wow! We discovered that our local redemption center down the street sells them, very convenient.
blu eCig starter kits start at just $49.95!
~Sam
Disclosure: This post is sponsored by blu eCigs. These opinions are 100% my own and may differ from yours. My opinion is in no way swayed by compensation...ever!